With the second wave waving its nasty hand at people all across the land we are zig-zagging protective masks (until they are no longer necessito...) and making music to help roll it along - day by day and song by song!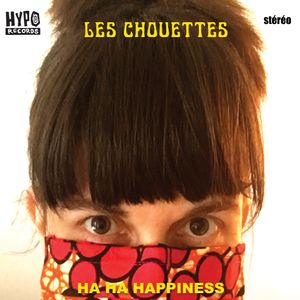 This month we are excited to present to you the anthem that gets us out of bed in the mourning - HA HA HAPPINESS! It's the debut single from psychedelique yéyé'ers Les Chouettes. Are they female owls? Are they tiny cabbages? All we know is they sound great and make a mean salad and we could all use some healthy boosts during this time of the plague. Just say NO to scurvy! Say YES to LES CHOUETTES! 
You can get cruciferous with us on SEPTEMBER 15th! Mark your calendars to enjoy the 2-song single (with bonus Deluxe Dressing Mix...) PLUS accompanying DIY mask maker video featuring some of our international friends whom we've masked! The music will be available directly through our website, bandcamp and other digital distro folks (if all goes as planned...a gamble these days!). If you join our mailing list we'll remind you on this special day! Yé! YAY! And the featured polka dot mask Krista is wearing in the video? There will be 12 available through the @leschouettesyeye instagram account only. First order first mailed! Oh yes...we SUPPORT USPS. Postal is political! Snail mail FOREVER!
LES CHOUETTES: MEDIA 1-PAGE ACTION (click if you are a radio station, zine, magazine, newspaper, organic market, elastic-distributor, or simply a curious cabbage...)
CLICK to check out Krista's MASKON series. Every Tuesday she posts a portrait of someone she's "masked" and how they met. You get discover new artists and why they mask! The first four featured maskees are Shawna Caspi (Songwriter & Artist) Joe Genaro (Songwriter & Artist), Judith Rudd (Illustrator) and John Mata (Graphic Designer).