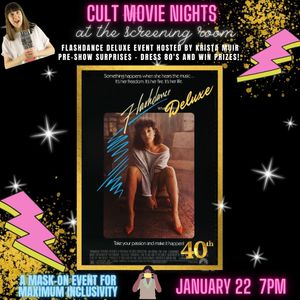 FILM - MUSIC - FLASH! It's a month of music and film for me! I've been enjoying getting creative with Cult Classics as Cultural Producer at The Screening Room and this January may be my last major event for a while so get your tickets here before they're gone! 
SUNDAY, JANUARY 22nd, 7PM
Winter blues setting in? FLASHDANCE DELUXE promises to transport you to another time and get you moving…the 80's way! Come celebrate the 40th anniversary of this cult classic – a dark dramatic dance film starring Jennifer Beals about a passionate young dancer who aspires to become a professional ballerina. An evening of 80's fashion (dress up and you could win!), aerobics, special guests and pre-show footage from the 80's vaults of Kingston and beyond. Sneakers, headbands, and cut-off sweatshirts not included in the price of admission.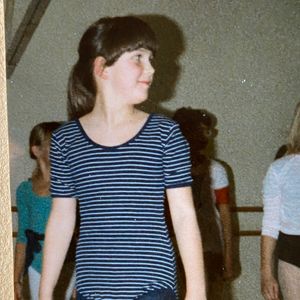 I'm excited to revisit Flashdance as I grew up in Kingston in the 80's and took ballet and jazz at Kingston School of Dance (pictured: mini me in class, 1984) as well as co-founding the "Health Angels" youth aerobics troupe. I was inspired by the Flashdance Soundtrack and the birth of MTV and went on to lead this ever-evolving career in the performing arts - composing and recording original music, creating videos and touring globally. In the words of the late, great Irene Cara "take your passion and make it happen - pictures come alive you can dance right through your life!"
This is the third mask-on Cult Classic event that I'm curating and hosting at The Screening Room so please bring your preferred mask, socially distance when possible and only remove mask when eating/drinking. Thanks for helping us making the space safer and more welcoming to all! 
Warning: Flashdance contains a sequence of flashing lights during one scene which may affect customers who are susceptible to photosensitive epilepsy or other photosensitivities. 
FRIDAY, JANUARY 27th
I'll be attending the Kingston premiere of ROSIE at the Reelout Film Festival. This is Gail Maurice's first feature film about a suddenly orphaned Indigenous girl and her newly chosen family in Montreal in the 1980s. The soundtrack is epic and I have a few songs featured in it so will be performing one prior to the screening. Details TBC but rumour has it that it will be at 7pm at The Screening Room (Kingston's only downtown cinema! Independent since forever!).