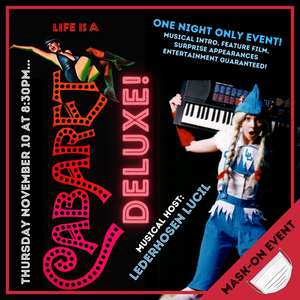 November promises to be a ridiculously good time! LL is pleased to emerge from the pantry for two special evenings of live, in person entertainment in Kingston, Ontario. 
THURSDAY, NOVEMBER 10th @The Screening Room - CABARET DELUXE! 
ONE NIGHT ONLY EVENT! MUSICAL INTRO, FEATURE FILM, SURPRISE APPEARANCES – ENTERTAINMENT GUARANTEED!
Wilkommen, bienvenue, welcome to The Screening Room's deluxe screening of CABARET! Join the intergalactic electropop fraulein Lederhosen Lucil as she experiences Cabaret for the first time ever! 
She's toured Bavaria! Eaten bretzels in Berlin! Her video about bicycle safety "Chicken On Clark" (shown as part of the event!) an underground future classic colour corrected by the talented Montréal-Paris based colorist Marc Boucrot (Dallas Buyer's Club, Blue is the Warmest Colour). So leave your troubles outside – real buttery popcorn and an evening of entertainment awaits! 
*** 
This is a mask-only event: we ask that you bring your own mask and only remove mask when eating/drinking. Danke and thank you for helping us make this special event safer and more welcoming to all. 
Synopsis: In Berlin in 1931, American cabaret singer Sally Bowles (Liza Minnelli) meets British academic Brian Roberts (Michael York), who is finishing his university studies. Despite Brian's confusion over his sexuality, the pair become lovers, but the arrival of the wealthy and decadent playboy Maximilian von Heune (Helmut Griem) complicates matters for them both. This love triangle plays out against the rise of the Nazi party and the collapse of the Weimar Republic.
SATURDAY, NOVEMBER 19th - Hotel Wolfe Island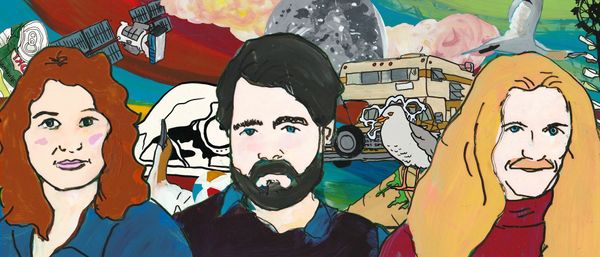 Krista couldn't play the Montréal September show due to the plague (she had it! again!) but Lederhosen Lucil is going to be joining forces this month on Wolfe Island - they may even play together on a few Hosemusik classics in celebration of its 20th anniversary! So hop on the free ferry and head over early to grab a lovely meal and make an evening of it jaaaa!!! 
DOORS AT 7pm 
SHOWTIME AT 7:30pm 
THE BURNING HELL: The Burning Hell is the ongoing musical project of songwriter Mathias Kom and multi-instrumentalists Ariel Sharratt and Jake Nicoll, often including additional comrades and collaborators. Their densely populated genre-shifting songs are packed with an abundance of literary, historical, cultural, and pop-cultural forebears, heroes and villains, subjects and objects, stories and hooks. They move with heavy rhyme and a light step, incorporating a frequent fixation on apocalypse and ruin into work that celebrates participation in a mutually created, ever surprising, delightful, and even occasionally beautiful world. Which is to say they're good dance partners and they want to dance with you. 
The Burning Hell are DIY in the best possible sense—underlining the "Do"—their albums and singles manifesting from the edges of the music industry as collaborations with independent labels and publishers, and their years of touring forming connections person by person, show by show, in town after town. They've famously ventured to every out-of-the-way island and inland neglected by the less adventurous, emphasizing presence and connection across latitudes, longitudes, and time, affirming a commitment to the political power of sharing music. It is a profoundly optimistic gesture delivered by way of killer tunes, exuberant hooks, and joyful live performances. Listen here. 
LEDERHOSEN LUCIL, who represented Saturn in the 2010 Cultural Olympiad alongside earth friend DJ Kid Koala, emerges from the pantry for a very rare appearancevin celebration of her first analog album HOSEMUSIK that turned 20 years old on September 15th, 2022. Jaaaa! Armed with two vintage PSRs she will genre-bend her way into your world. Lucil's motto: Always make time to hose! Favourite food: Dried apricots. 
Lofi music video from the vault - ALL GOOD SCABS 
JAKE NICOLL: Indie folk songwriter and producer Jake Nicoll is a staple of the St John's NL scene. In March 2022 he released the stripped down, sun-bleached folk album "Pool House" made on a small suitcase tape recorder in Pasadena, California. Recent months have seen him travelling the country in his "Phonoautomat" instant recording booth built into his home made solar-powered recording camper, being shortlisted for the Polaris prize as co-producer and engineer of Kelly McMichael's Waves, and touring as drummer for the Burning Hell.