Bonjour friends! hypo records was on hiatus July and much of August due to several unforeseen challenges but we're still truckin' and have a few fun things coming up worth sharing.
1. Lederhosen Lucil is doing a guest appearance set at Luther Wright & The Wrongs Patio extravaganza at The Mansion on September 25th. 4-7pm Rain or Shine. Limited spaces available so email pamelacross54@gmail.com to reserve your free ticket. Free? YES! (Fartniss Disco included in performance)
To find out how you can book LL to perform at your safe distanced fully vaccinated outdoor event (or for a personal pan pizza show via zoombie) contact PaulGrantMgmt@gmail.com.
2. Krista has been sewing to relieve stress so there are new masks and scrunchies in stock at the store. Scroll to the bottom of the page for the physical merch. MASK ON!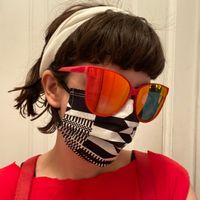 3. We're putting together a compilation album featuring all the hypo records bands and may release it as early as this...? Halloween? Festivus? Will keep you in the loop dee loop...