When NACNAC wrote the song "It's A Holiday" for the Holy Crap records 2020 Holiday fundraiser compilation it inspired us all at hypo records to think about what we hold sacred during these plague times...music, friends, family, community, nature are foremost on our minds but also...dark CHOCOLATE! The treat that brings bodies, minds and spirits JOY throughout the year (unless you don't like it or are allergic or both).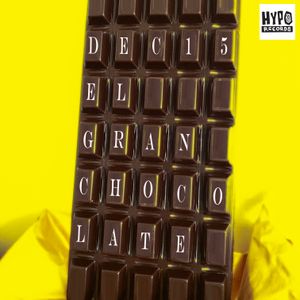 Krista dreamt up a holiday a few weeks ago El gran chocolate (aka "Le Grand Chocolat"). It's inaugural celebration will be December 15th at 19h PT with a chocolate serenade and screening of a chocolate-centric doc/feature (most likely the original Charlie and the Chocolate Factory...or Like Water for Chocolate...).
We invite you to celebrate this rich antioxidant ambrosia along with us from wherever you are! If you're signed up to our mailing list you'll receive a free download of the ode/theme song for El gran chocolate to commemorate this day of CACAO! What do you need to celebrate? Key ingredients are: yourself, chocolate, and the theme song. Additives? A chocolate themed movie such as the ORIGINAL Gene Wilder Charlie And The Chocolate Factory (rotten tomatoes calls it "Strange yet Comforting" - we highly agree). 
MUSIC RELEASES:
TODAY! EL GRAN CHOCOLATE (solemn and delicious hymnal ode to the great cacao). Best listened to with eyes closed while eating a few dark squares. Miam!
NACNAC's IT'S A HOLIDAY (pan-denominational disco) single OR enjoy Holy Crap's Holiday Songs to Remember or Forget* Compilation with 36 festive songs HERE! Funds go to the National Harm Reduction Coalition. *This is not recommended for children.
STEFANOS ROKOS' 10 Years of Horror & Romance limited edition Vinyl is NOW AVAILABLE here!  Music inspired by Stefanos Rokos' exhibition in 2010...now remixed art along with remixed songs by three of the original contributors and one lost track revisited. Krista's Between Atoms was written for this project and we are so excited to hear it remastered and on vinyl!