Our upcoming Les Chouettes follow-up release is a dreamy one. The song "Fallow or Follow" holds special significance as it was inspired by an invitation to contribute to the Itty Bitty Little Ditty compilation. A group of Ottawa musicians started this project near the beginning of the pandemic to inspire one another to create during this time. The second edition was given the theme (to take or leave) "Forest for the Trees". Krista took it literally and then sent it off to composer, producer, masterer in the UK Fran Ashcroft on a whim. He was delighted by it, suggested a collaboration and ZOWWW Les Chouettes were bairn!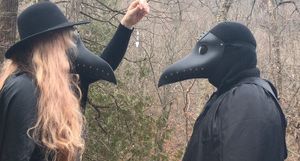 More news to come...till then here's a sneaky streaming only link of the new single (to be released November 15th somewhere somehow) for friends of hypo records. Photo features the Plague Doctors who appear in the upcoming Fallow or Follow video...
If you'd like to close your eyes and travel to Greece for a moment here's the second Itty Bitty Little Ditty contribution another hypo records project did. A delicate song in Greek about the fall...
We are lighting candles today - the dia de los Muertos - and drinking spicy Mexican hot chocolate. Hope this finds you healthy and safe wherever this may find you.