SNAP! That's the elastic of time...
After being boxed up in semi-quarantine mode as a long hauler (probable Covidian - just learned the term) recovering slowly but surely from a heart condition (Mr. Peri Carditis) and talking about it with a Covid Coven on the Missing Witches Podcast, I wrote a ode to covid...
Ciao Covid Heart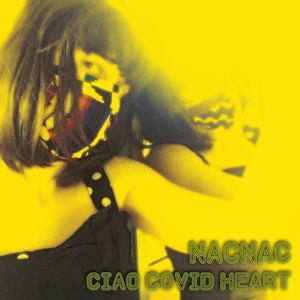 Don't come near me without a mask...simple courtesy is all I ask 
(Pericarditis can kiss my...)
I've got dust in my heart burning dust in my chest burning
DUST! Da da da da da daaaa....
Featured in the artwork is one of the many masks I've made in the past 4 months. I have 16 on rotation at the moment - using vintage clothes that no longer fit, getting donated fabric from friends with a surplus or supporting local businesses like Espace Urbain been sewing and donating or selling since this all began. You can buy them or gift them online here! It seems, due to human behaviour, we will have to mask-up for quite some time.
Lucil, after releasing The Fartniss Disco, has returned to the pantry indefinitely...she's more comfortable conversing with cans of chickpeas than carbon based life forms. I can't blame her! She did enjoy seeing footage of our first Soiro Bizarro. Here's the fastest version of YOU SUCK you'll ever hear! Lo-fi/one channel hilarity.
September 15th, 2020 will mark the release of Les Chouette's first bilingual single! Sparked by a musical penpal n' secret producer-collaborator across the pond...more details to come...ouéeeeee!