Oh hello! Looks like I've haven't posted anything in months. Hmmm...strange and bizarre as I was fairly certain I posted a few things when my NEW MATH EP came out in February buuuut...ZAP! Tis gone! Mmm...It could be that I've been busy recovering from Pericarditis, a heart condition indicating that my body has been battling a virus (Gee, I wonder which one?), and what with the state of the world just plum lost the ooomph to toot toot about things. My doctor and Cardiologist couldn't find anything "abnormal" after the initial diagnosis but my gut instinct shouted "Dude, it's gotta be the dreaded C19!" Yes, my gut can be a bit of a hoser...Although the symptoms have persisted for months and I've now read several scientific articles that support my theory, the good news is that despite my having asthma and being a more "at risk" individual I seem to be on the mend. YAAAAY! 
In the midst of all this quarantine'ing and hermit'ing I've been busy hugging trees and making masks to protect friends, family, strangers - people I love, respect and care about. It's become a bit of a mission - a daily task...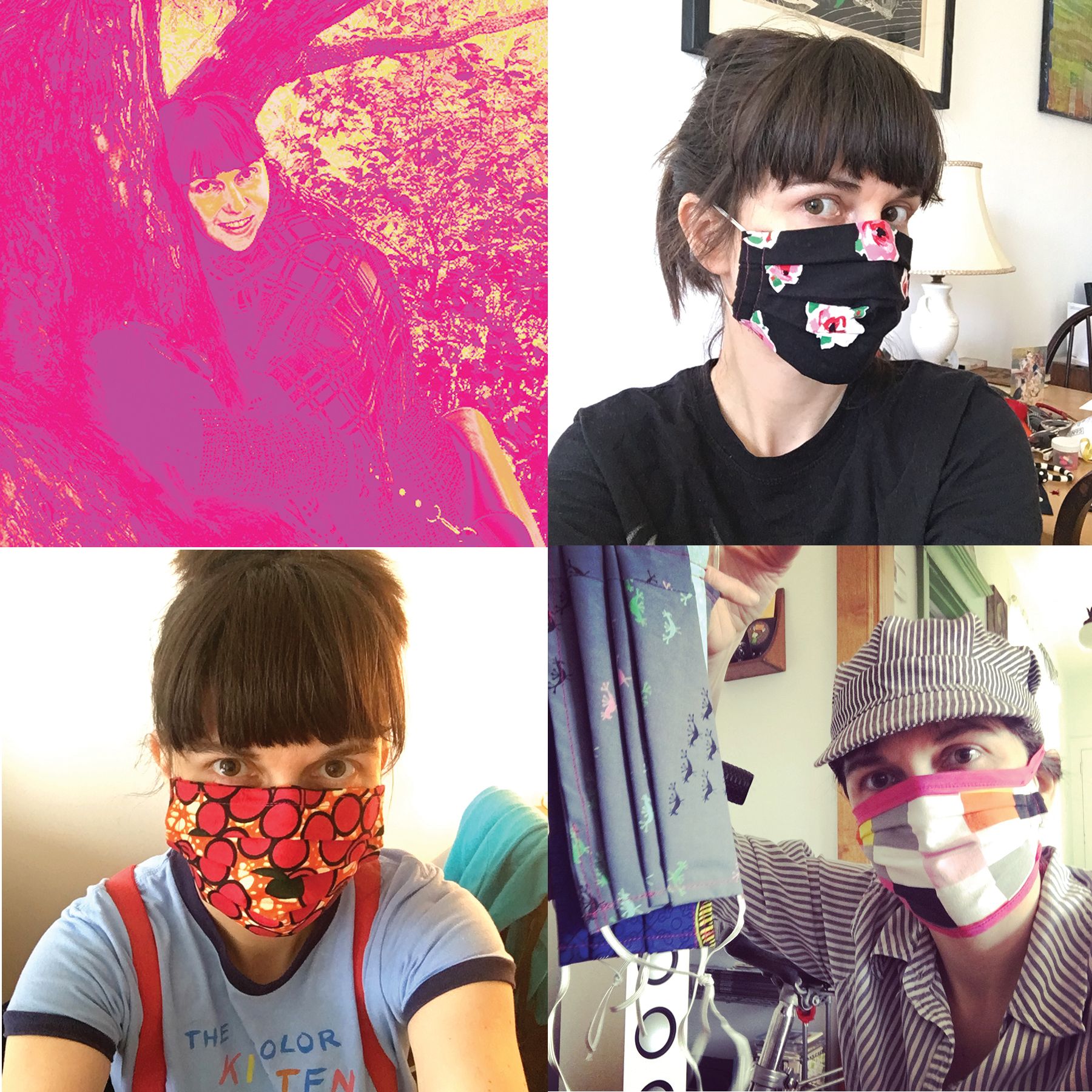 When I saw a post by visual artist Emily Jan in late March I oiled up the old Kenmore that I have used to make Lederhosen Lucil costumes and merch throughout the years, and started making masks for myself, friends, family and eventually for others. Using vintage and donated fabric, this project has given me a sense of purpose throughout all this - an anchor-point to each day - and has connected me to people in a meaningful way. I sell them PWYC and donating about 50% of what I sew to those in need. Proceeds support local businesses (ie. favourite restaurants and fabric shops) and non-profits. Some masks I use to barter/trade for delicious food, carpool services etc. Folks are making cloth masks everywhere now so please support your local designers/sewists - protect yourself and others with this environmentally sound option until the virus has a vaccine! 
I've also started writing, recording and releasing new music again...May 1st TOOOOTED out  THE FARTNISS DISCO (Co-written by my magic niece "VV"!). Initially I was listening to it as a form of laughter therapy (hard to resist laughing when you hear VV giggling) which no doubt has helped the healing process along but then I thought maybe others would appreciate it aussi. On May 17th FALLOW OR FOLLOW was released on an Ottawa compilation Itty Bitty Little Ditty. It's currently being re-mixed and extended with a mystery producer/masterer (sooooon to be revealed) and the B-side is currently under construction....yay!
Lastly, Lederhosen Lucil is playing 2 songs alongside a host of other folks from across Canada at the Skeleton Park Arts Festival Livestream Hootenanny so tune in June 18th for some singsong silly times! LL goes on near the end of the show which runs from 7:30-8:30pm sharrrp!
That's all for now! Thanks so much for tuning in...Don't forget your Vitamin C, D, zinc...and pineapples!