Tis the month of May and I'm in the midst of processing the several months I spent living and composing, recording, editing...in a haunted heritage house on Pleasant Valley Road in Vernon, B.C. The late Sveva Caetani, whose childhood room I resided in for nearly five months, donated this house to the city so that it could serve as a cultural beacon for both locals and guests.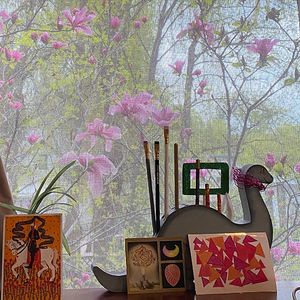 Sveva was "a visionary figure in the community with a deep belief in culture, education, knowledge and the importance of artistic endeavours to the well-being of society as a whole. 2021 marks the 100th anniversary year since the family immigrated from Italy to Canada. The patriarch, Leone Caetani, Duke of Sermoneta, was a parliamentarian and celebrated scholar. With the rise in fascism, out of all the places in the world he had travelled, he chose Vernon, having visited the Kootenays in the 1880s." (from www.caetani.org)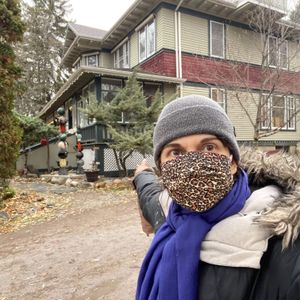 I arrived on December 6th and stayed in the Sermoneta Room, Sveva's childhood room, pictured here - top right corner windows on the 2nd floor.
My initial proposal was to get to know the community by serenading local residents at a safe distance/virtually but this proved more challenging than I'd anticipated. With the Caetani Centre focused on a new museum project and welcoming Sveva's "Recapitulation" back, I opened up to international commissioned pieces while performing virtually and recording new pieces. What did I do throughout the residency? Here's a glimpse into some of my wanderings and doings.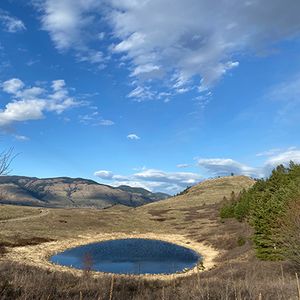 Wanderings? Vernon, Kal Park (pictured here), Ellison Park, Rail Trail, Rose Swanson, Kits Beach, Black Rock, Sovereign Lake, and Fintry Falls to name but a few...
Concrete Doings? Throughout my stay I gave three interactive virtual concerts that can be re-watched here: January at Dogwood, February at Dogwood (Mercury Retrogrrrrrade Edition), and March at Caetani (featuring ghost of double delay at 7:31).
I composed four private Chanson-O-Gramme commissions as well as El Gran Chocolate (ode to chocolate used to serenade several folks virtually during my stay), Bound To Be The One (Cover Contest for Holy Crap Records), Ode to Dogwood Records (I created both song and video!), and Ode to Zeli the Princess Dog (only experience'able at the end of the March Livestream). 
The last song I composed and recorded while at Caetani - Curve of Time - was inspired, in part, by the Recapitulation series/writings by Sveva as well as the book Thought Forms by Besant/Leadbeater. The upcoming Les Chouettes single Idiomatiques (sneaky video premiere featured in the March livestream as well)/Curve of Time will be released at the end of this Month.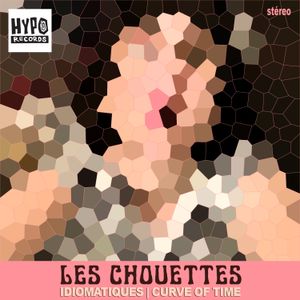 During my stay I rediscovered my love of blazing through books thanks to the local library system. If you are looking for something random to dig into here are my top picks - poetry, nonfiction, fantasy, essays... Write the titles on pieces of paper and pick one out of a hat. 
The Happy Life: The Search for Contentment in the Modern World by David Malouf, Garden Time by W.S. Merrien, Kitchen Confidential by Anthony Bourdain, No One Is Too Small To Make A Difference by Greta Thunberg, I Am Malala by Christina Lamb and Malala Yousafzan, All About Love: New Beginnings by Bell Hooks, Our House Is On Fire: Scenes of a Family and a Planet in Crisis by Greta Thunberg + Family, The Purpose of Power: How We Come Together When We Fall Apart by Alicia Garza, We Will Not Cancel Us: And Other Dreams of Transformative Justice by Adrienne Maree Brown, Man's Search For Meaning by Viktor E. Frankl, The Night Circus by Erin Morgenstern, Our Malady: Lessons in liberty from a hospital diary by Timothy Snyder, All We Can Save: Truth, Courage and Solutions for the Climate Crisis edited by Ayana Elizabeth Johnson and Kathleen K. Wilkinson, and Little Fortress by Laisha Rosnau.
Little Fortress was the first book I ordered and the last I received. It centers on the true story of Miss Juul who traveled to Canada with the Caetani's for whom she worked as a "personal secretary" but who was so much more. After the passing of Leone, the three women secluded themselves in the house for 25 years until Ofelia passed away and Sveva and Miss Juul stepped back out into the world. I visited the Pleasant Valley Cemetery with some wildflowers and dried grasses from the Caetani grounds and found the three buried together under five trees. Never did I feel a malevolent force in the house, but there was a darkness and melancholy there - a weight that was undeniable. Happy to arrive - happy to go. Ever moving clouds. Ciao!