MARS = LIVESTREAM action and NEW MUSIC!
WEDNESDAY, MARCH 24th - A FEW HOURS LEFT TO BUY $6.00 RAFFLE TICKETS FOR THE KRISTA MUIR SHOW GRAND PRIZE DRAW! (private virtual zoom serenade!). OR simply Click here at 5pm for youtube fun...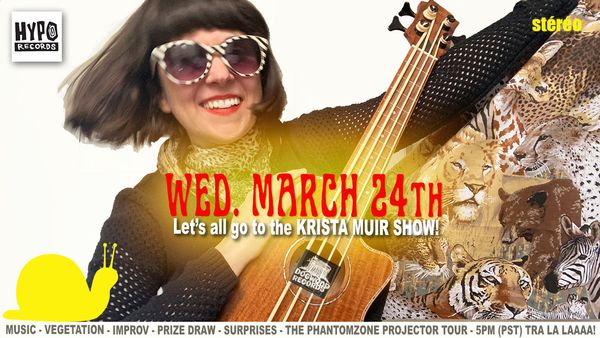 ZIP ZOP ZAP POWWWWW!!! And we're back with Livestream Dream #3! A monthly all ages extravaganza featuring music, vegetation, prize draw, interactive improv and surprise guests! To participate during the live chat sign in to your youtube account. If you're on the mailing list (sign up at www.kristamuir.com) you'll receive an invitation to submit your song requests two weeks before we go live! Let's all TRA LA LAAAA!!! Each $6.00 ticket comes with a chance to win the prize draw! 
5pm (PST) so don't forget to check your timezone! 8pm (EST) 9pm (AST) 9:30pm (NST) 1:00am (GMT) 3:00am (GMT+2) ... 2pm Thursday March 25th for friends in New Zealand! ZAPPO!
Les Chouettes also have another single coming out soon...Idiotmatique! Why not? Let's CHANTE! And if you are looking for a serenade or custom song commission for a friend, family member, crush etc. in need of cheer drop us a line!
HOLY CRAP RECORDS - GOODBYE DONALD Anti-fascist compilation fundraiser album! Covers of All You Fascists Bound to Lose/We Are The One. Funds raised go to the