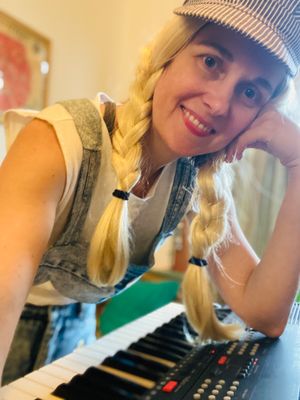 We heard about International Overdose Awareness Day through Holy Crap Podcast hosts Cinnamon and John (supporters of our record label/bands). Even though last minute and rather raw, we decided to spend today revisiting old and new songs through Lucil's Yamaha PSR-5oo and managed to get LL into the Starwarshosen she hasn't sported in several years. GO LUCIL!
This 10-song set is dedicated to two of Krista's friends - one who did and one who didn't survive accidental overdoses. We are starting to learn more about overdose prevention ourselves so that we can help friends, family, and strangers should the need ever arise.
We called today to ask about getting a Naloxone kit to have on hand should any emergency arise but learned that to receive either a nasal or injection kit covered by the Québec government we'd need to go in to a pharmacy and tell them that either we are a drug user or someone we know is. Still feel like there's a stigma attached as they made it sound like having it for emergency purposes wasn't "included". Anyways, for more info and resources on what an overdose is, how/why it can occur and how to help those in need click here: International Overdose Awareness Day.
The LL broadcast will go "live" on our youtube channel Tuesday, August 31st at 8:00pm EST!